As promised (2 weeks ago), here's pics of the newly installed dome battery setup.
All of the parts are recycled, or are extra stuff that was lying around. The straps, which I found at work, just happened to be the absolute perfect length to hold the battery in place. The plates are leftover A&A scrap from the frame/legs build (I kept all the scrap, for things just like this). The screws and nuts were extras, again from the frame build. You'll probably hate this part...the batteries (as are all my batteries) are from work as well. They have been pulled out of UPSs that failed and were destined for recycling. I grabbed 3 of them, charged them, and the first one I tried ran the lights for 36 hours, until I decided to turn them off. Artoo's drive system ran for 8 hours at the WSMI exhibit at the USSRC on 2 of those recycled batteries.
Anyway, back to the build!
Because the slots in the JAG dome plate are further apart than the width of the battery, I had to make a plate to bolt to the JAG plate, which the straps run underneath, like so: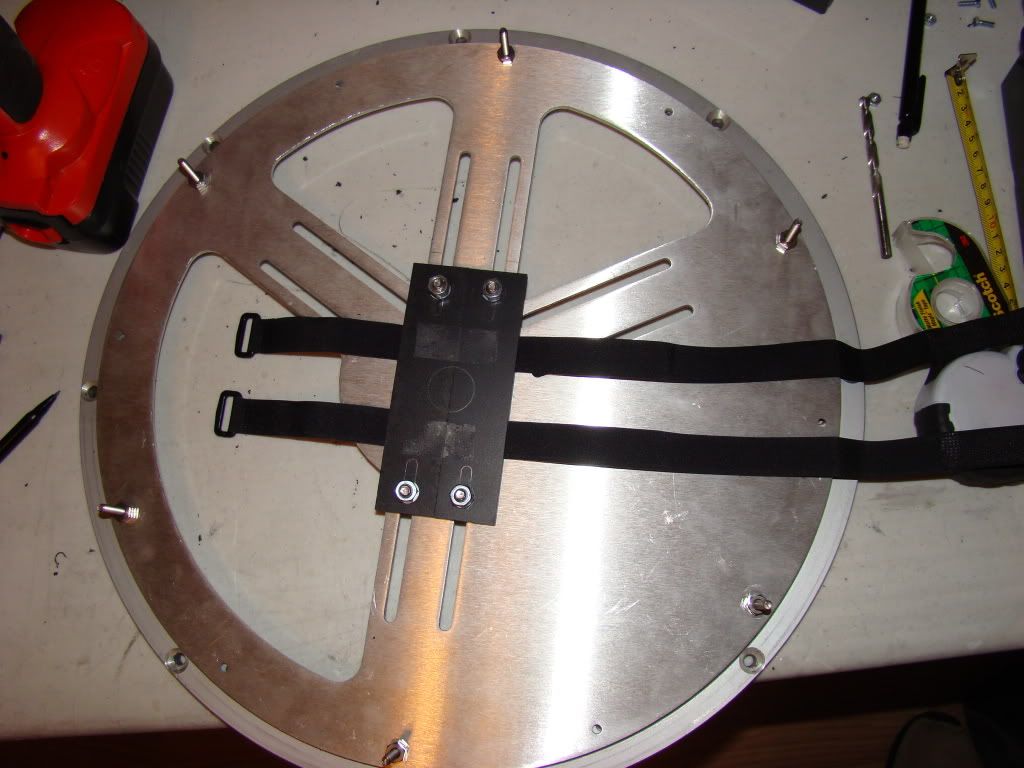 Underneath, the small plates that the larger piece bolts to has the screw heads countersunk, and is far enough in towards the center so as not to interfere with the dome drive wheel: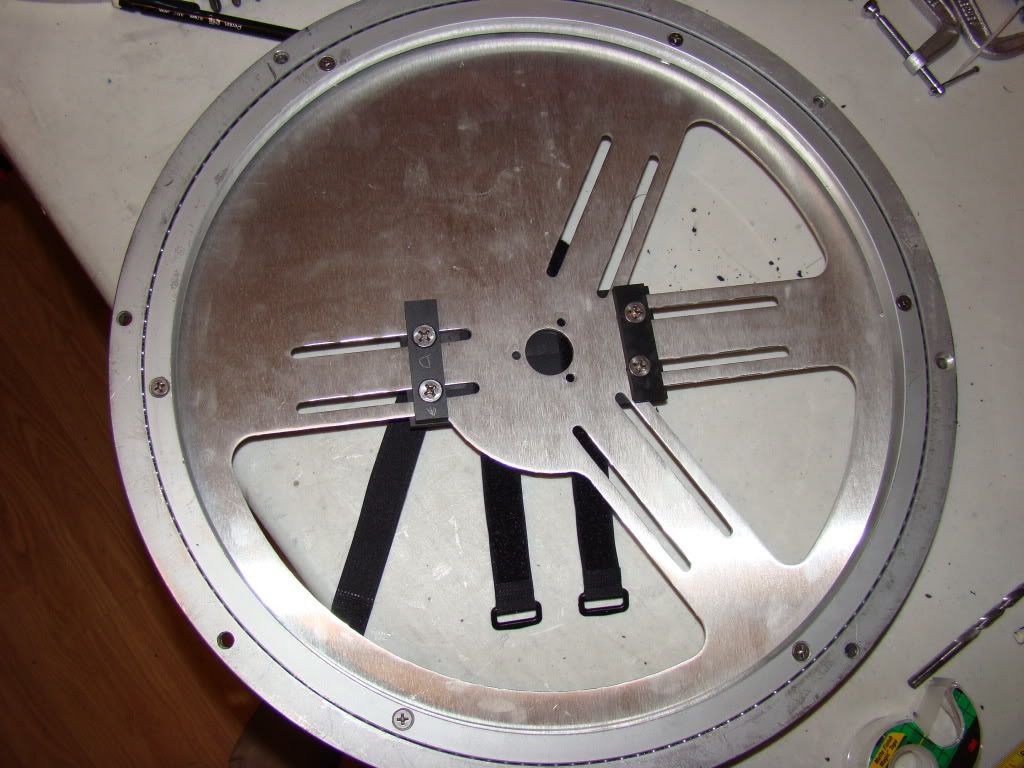 (I know it's off center in this picture, that's been corrected.)
Here's a couple of shots of it installed on Artoo: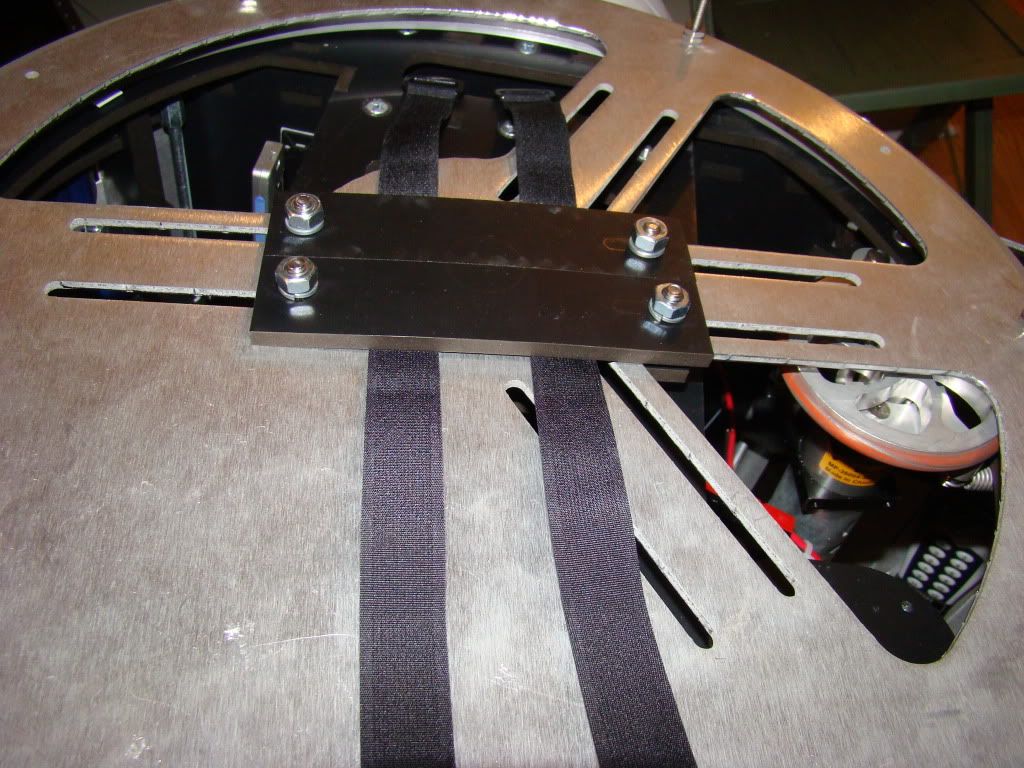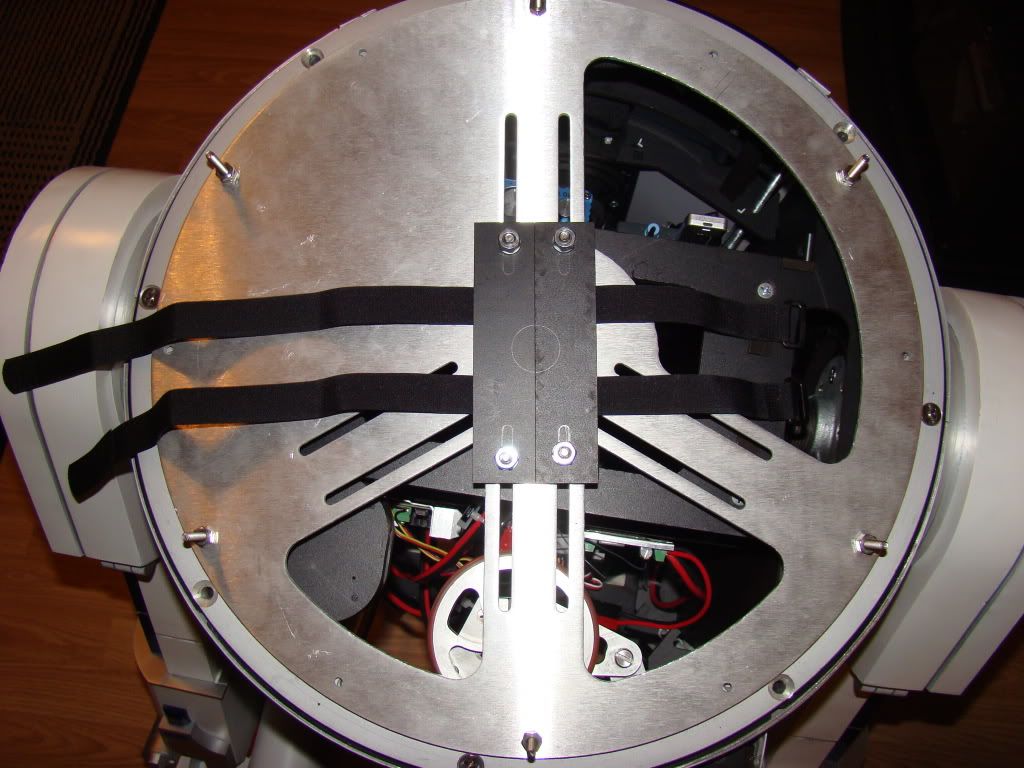 The battery is a 12v 4.5ah (or 5ah, depending on which on is installed) that velcros securely like so: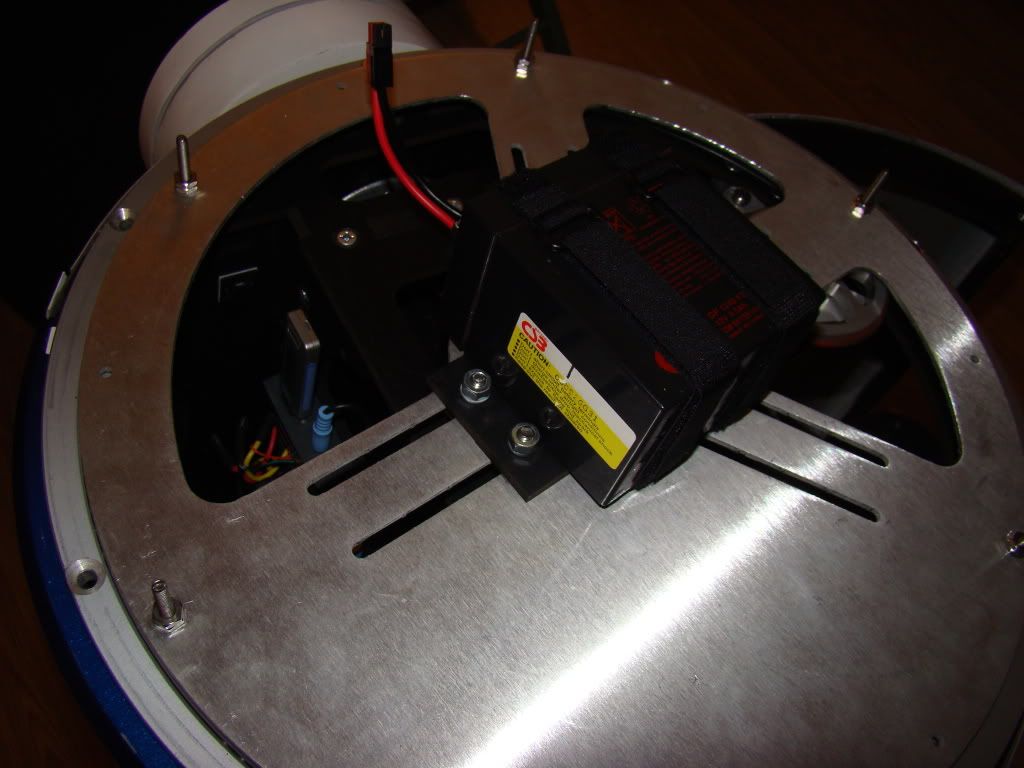 I pretty much eyeball the battery when I velcro it in place to "center" it. Since it's a smaller battery, being slightly off center shouldn't cause too much wobble when I spin the dome.
Here's what I pulled out: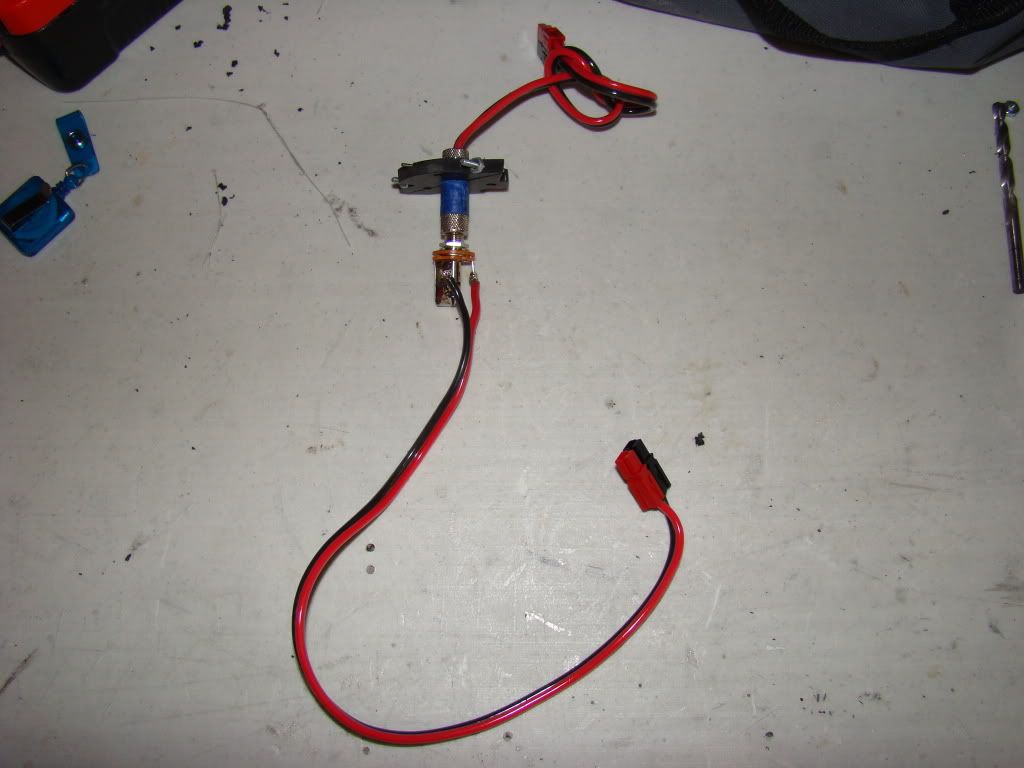 It's already worn down on the contact spots, and no longer spins freely. It's kind of "grindy"... if that makes sense to you.
Anyway, last pics are of something I came up with to keep the slack in the power wires from dropping under the JAG plate and getting snatched out when the dome turns, which happened before.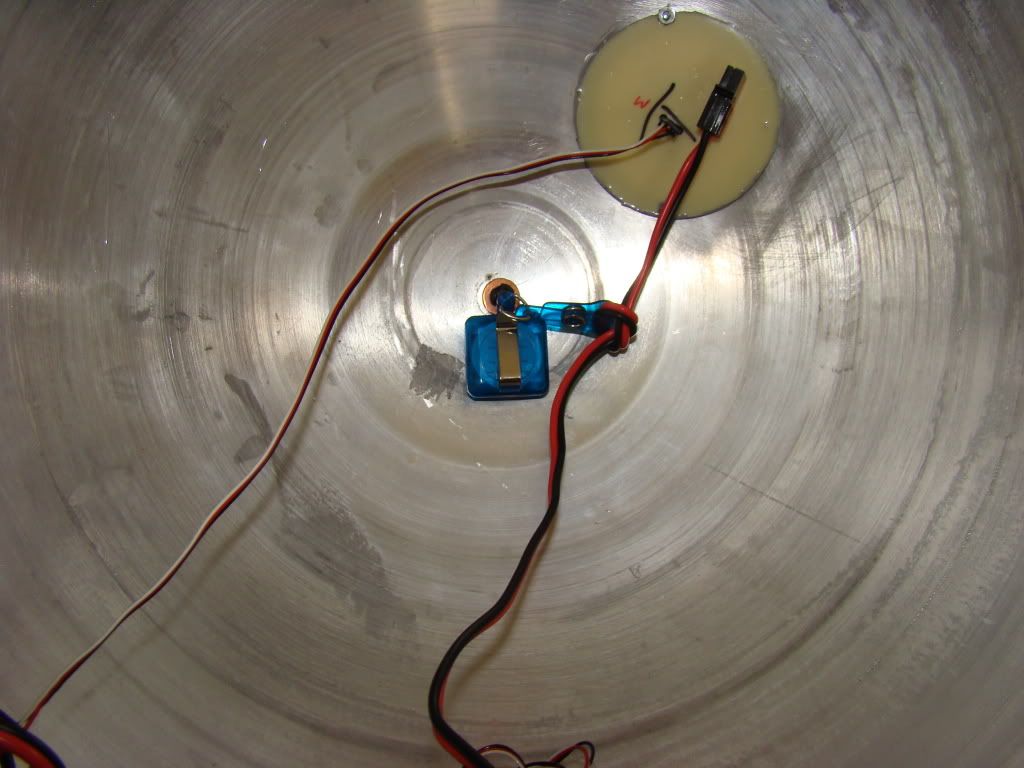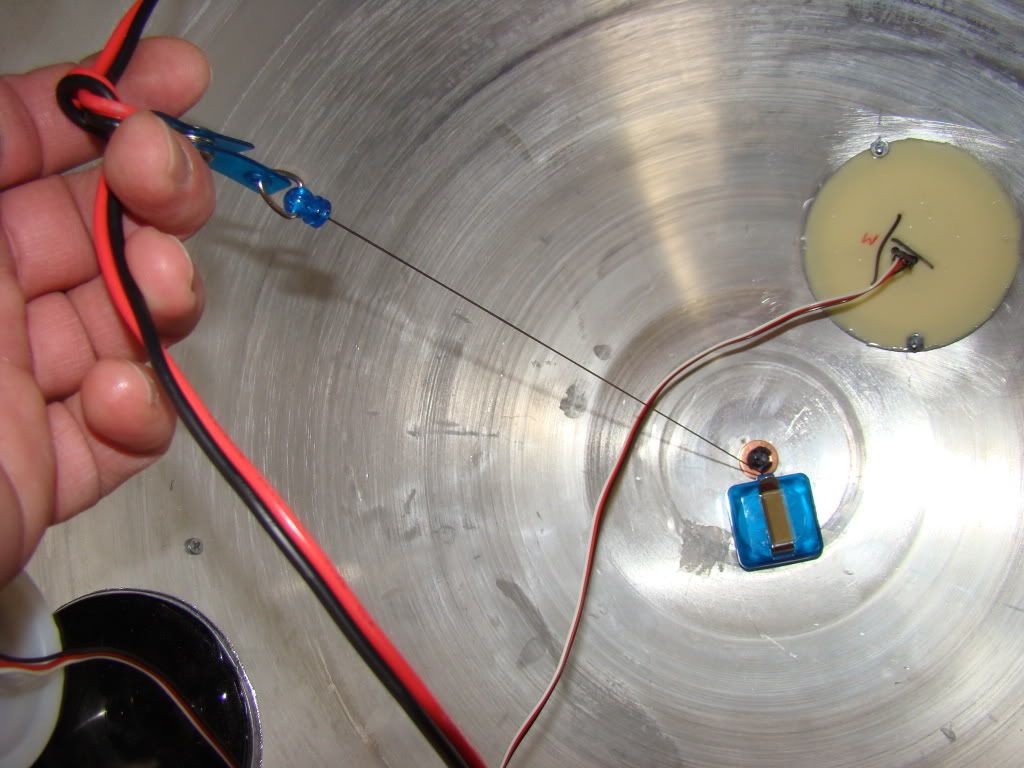 I used that "gator" velcro, the kind with hooks on both sides to attach an ID badge holder to the top of the dome. It pulls the wire just enough to keep it up out of the way when things are turning, but not enough to disconnect the power wires. It's amazing the stupid ideas that turn out to work pretty well sometimes :)
Anyway, that's all for now. Not sure when the next update will be, since I don't have anything pressing to work on at currently...